أنت هنا
ممثل البلد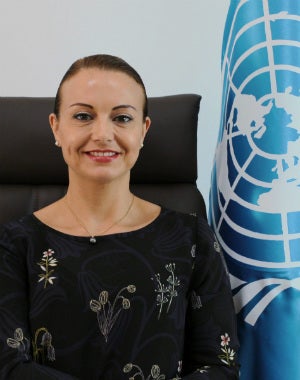 Bérangère Böell-Yousfi
Ms. Böell-Yousfi has serves as UNFPA Representative in Libya since June 2017, bringing to her position 18 years of experience in development and humanitarian settings, of which 13 in the United Nations across the Middle East, North, East and Southern Africa.
Formerly, Ms. Böell-Yousfi was UNFPA first Regional Resource Mobilization and Strategic Partnership Adviser (2013-2017) in East and Southern Africa covering 21 Country Offices. Under her leadership, revenue from donor funding in the region tripled, making it the first region contributing to the global income of UNFPA.
Before joining UNFPA, Ms. Böell-Yousfi served for 8 years in the United Nations Relief and Works Agency for Palestine Refugees in the Near East (UNRWA), where she held multiple positions in the field of external relations and project development, starting as a Junior Professional Officer in HQ Jerusalem  (2005-2008) and subsequently as Donor Relations Officer (2008-2010) and Head of the Donor Relations and Projects Unit (2010-2012) in Lebanon Field Office, before re-joining UNRWA Headquarters as Head of UNRWA Projects Unit based in the Gaza Strip (2013).
Prior to that, Ms. Böell-Yousfi was Head of Office and Projects Coordinator in Tunisia (2003-2005) and Projects Manager for the Dominican Republic and Haiti in Madrid Headquarters (2000-2002) for a Spanish NGO.
Fluent in English, Spanish and French, Ms. Böell-Yousfi holds a Master's Degree in International Cooperation from the Complutense University of Madrid and a Bachelor's Degree in Political Sciences and International Relations from the University of Paris VIII.
A national of France, she is married and has two children.